About us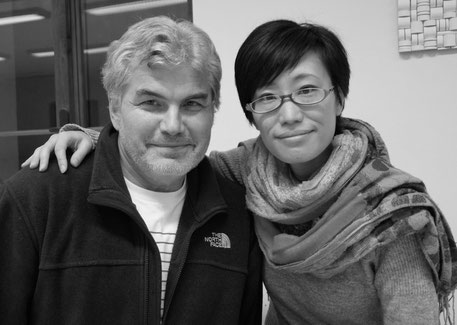 We are married couple exclusively working with the porcelain – for our work we are using slip
casting technology with the wide range of hand made decoration.
We are firing our pieces in the reduction atmosphere – using the gas kiln – for 1360℃.
For the overglaze decoration we are using mostly platina which is fired on 800℃ in a oxidation
atmosphere. All our pieces are highly functional.
Studioporcelain-cz  Vladimir and Yasuyo
---
CV
Studioporcelain.cz  - activity since 2005 /selection/
2005 - Started work together
2007 - Artist in residence( exhibition and workshop)in Wasserschloss ,Klaffenbach ,Germany
            Exhibition – Mitsukoshi, Nihonbashi – Tokyo, Japan
            Exhibition – Mitsukoshi, Ginza – Tokyo, Japan
            Four works published in the book – "Slip casting and mould making" by Andrew Martin, Sterling Publishing Co., Inc. New York
2009 - Vents d´Est – exhibition – Millau, France
            Concours International de Ceramique – Carouge, Swiss, selected exhibition
2010 - Exhibition "Kirschbluten" Galerie Mangold – Leipzig, Germany
            Exhibition "Porzellan- Unikat und serie heute" – Klaffenbach, Germany
            Invited Professor and Lecturer in Musashino Art University -Tokyo, Japan
2011 -  International competition "in Dosen" Handwerksmuseum -Deggendorf,Germany
            Sasama international ceramic art festival – Shizuoka ,Japan
2012 - Group exhibition -Sasama from the world
           –Museum of modern ceramic art Gifu.Japan
           -Gelerie hu -Nagoya , Japan
           -Galerie L'essentiel -Tokyo ,Japan
           Solo Exhibition in Terrania - Montblanc, Spain
           Group exhibition in Galerij pi kwadraat - Belgium
2013 - Exhibition "Partners in clay", Keramiekcentrum Tegelen,- Netherlands
           Invited guest exhibition "The Best" in seeshloss, Gmunden
           Exhibition – Gallery HU, Nagoya, Japan – with Jennifer Lee, Sasha Wardell and Shozo Michikawa
2014 - Neue Keramik prize - exhibition FLAIR MÉDITERRANÉE in Hohr-Grenzhausen ,Germany
           Selected exhibition " Westerwald Prize 2014" ,Germany
           Group exhibition – Gallery LA LANKA - Netherlands
           Group exhibition – Galerij Pi kwadraat - Belgium
           The 4th Shanghai comtemporary ceramics biennal -Shanghai craft museum -Shanghai, China
           "Ceramic conclave 2014" international exhibition – New Delhi , India
2015 -  Gallery Loes & Reiner International Ceramics – exhibition Porcelain 2015 -Netherlands
            Invited guest artist – Artist in residence in Ceramic park Shigaraki , -Shiga,Japan
            Summer guest exhibition ,KASINO ,- Hohr-Grenzhausen, Germany
            Group exhibition – Galerij Pi kwadraat , - Belgium
2016- ArtCera2  international exhibition  -SÈVRES, France
     International porcelain exhibition ,Galerie Kempro,Eindhoven, The Netherlands
2017- International porcelain exhibition Gelerie ,Beelden in Gees, The Netherlands
            International porcelain  exhibition also to  Galerie CC 't Vondel  ,Halle, Belgium,
---